No time to cook and still feel like having some delicious warm vegetables? We have a full range of pre-cooked vegetables.
The French term cuit sous-vide stands for vacuum cooked. Vacuum cooking allows products to be held longer without the addition of preservatives and E-numbers.
Sous-vide preparation kept the taste, structure, color, vitamins and nutrition values optimal.
In no time, you've got a delicious warm portion of vegetables full of vitamins on your plate.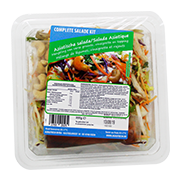 Pasta salad